Fashion
The Enchanting Charm of Shararas: A Perfect Engagement Dress Choice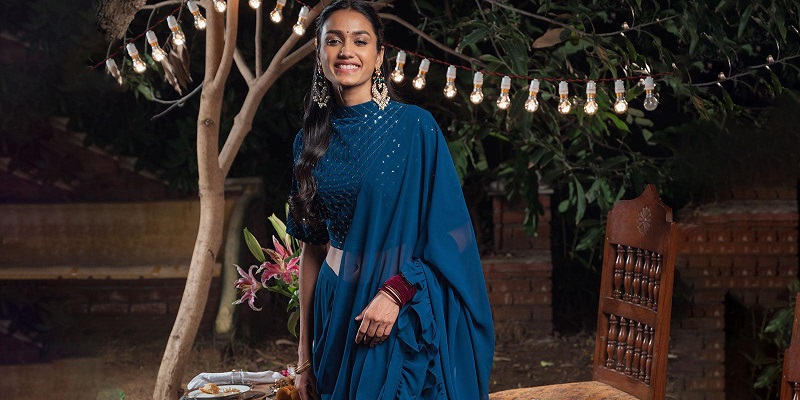 When it comes to engagement ceremonies, choosing the perfect attire is of utmost importance. The engagement dress sets the tone for this special occasion, symbolising love, commitment and the start of a beautiful journey. If you're looking for a graceful and mesmerising outfit that exudes elegance and tradition, look no further than the enchanting sharara. Let's dive into the world of shararas and discover why they make for an ideal engagement dress.
The Timeless Beauty of Shararas
A sharara is a traditional dress consisting of three main components: a flared bottom, a short kurti-style top and a dupatta. What sets the sharara apart is its wide, flowing bottom, distinguishing it from other traditional Indian outfits. This unique silhouette makes it a captivating choice for special occasions like engagement ceremonies where brides seek to blend tradition with contemporary fashion.
Embrace Tradition with a Modern Twist
Shararas are steeped in history and are often associated with Mughal and Nawabi culture. However, they have evolved over time and now come in a wide range of styles, colours and designs, catering to the tastes of modern brides. From traditional silk shararas with intricate zari work to contemporary designs with minimalistic embroidery, there are shararas for every bride's personal style.
Colours that Radiate Joy
Choosing the right colour for your engagement dress is essential, as it sets the mood for your celebration. Shararas offer a plethora of colour options to explore. While traditional hues like red, maroon and gold exude timeless elegance, brides today are embracing a broader colour palette. Pastel shades, such as blush pink, mint green, and lilac, bring a touch of softness and romance to the occasion. Bolder hues like royal blue, emerald green and wine red add a regal vibe to the ensemble. Whether you prefer traditional or contemporary shades, you can find a colour that will suit your style and make you shine on your engagement day.
Embroidery that Dazzles
Embroidery is an essential element of shararas. Intricate designs, detailed patterns and embellishments add a touch of glamour and finesse to the outfit. From delicate zari and thread-work to artistic mirror and stone embellishments, there are endless options to explore when it comes to the embroidery on shararas. Whether you prefer understated elegance or dramatic richness, the right embroidery can elevate your engagement dress to new heights. 
Unleash Your Style with Various Silhouettes
Shararas offer a range of silhouettes to suit different body types and personal preferences. Straight shararas give a sleek and modern look, accentuating height and creating appealing look. Anarkali-style shararas bring a touch of grandeur with their voluminous bottoms. A-line shararas provide a flattering silhouette for all body types, while palazzo-style shararas add a trendy twist to traditional attire. With so many options, you can find the perfect one that makes you feel confident and gorgeous on your engagement day.
Make a Statement with Fabrics
The choice of fabric is crucial in ensuring both comfort and elegance in your engagement dress. Silk shararas exude richness and luxury, perfect for brides who love traditional Indian textures. Chiffon and georgette fabrics offer a graceful flow, making movement effortless and adding a touch of ethereal beauty. The right fabric choice can enhance the overall look and feel of your sharara, allowing you to fully enjoy your engagement ceremony.
A Flawless Blend of Tradition and Magic
When it comes to engagement dresses, the sharara provides the perfect blend of tradition and modern sophistication. Embrace the charm of shararas, and let them be a part of your special day. With their timeless beauty, diverse colour options, exquisite embroidery and versatile silhouettes, shararas make a captivating choice for brides, who want to honour their heritage while embracing modern style. 
On your engagement day, let the flamboyance and elegance of a sharara adorn you. With its rich history and ever-evolving designs, the sharara embodies the beauty, grace, and celebration of love that an engagement ceremony represents. Choose a sharara that reflects your unique style and radiates joy, making you the centre of attention, and creating lasting memories that you will cherish for a lifetime.